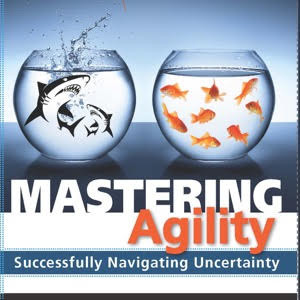 Achieving Agility Through Smarter Forecasting in the Supply Chain
In the book Mastering Agility -Successfully-Navigating-Uncertainty, authors Hans Amell and Kurt Larsson remind us of the many destabilizing forces that create the perfect storm that decimate businesses worldwide. In short, they tell us "it is high time to get agile or die". In their words, the book is about "executing change with simple, decisive and engaging leadership skills and then powerfully communicating them with everyone involved to get each participant on board fast, so they can quickly create measurable results. Using a sailing metaphor, they urge us to prepare to cast off.
This message applies as meaningfully to business forecasting in supply chain operations, as well. The forecaster must strive to induce needed change – change in the way we deal with data quality and exploration, quantitative methods for forecast profile modeling, and uncertainty measurement. In the CPDF Agile Forecasting and Planning Workshops, the theme of navigating uncertainty is key to achieving agility through Smarter Forecasting in the Supply Chain.
In my new book on business forecasting for demand & supply chain practitioners, managers and professionals, I describe
·        Why a consumer data-driven forecasting process is an essential component of effective demand planning and management practices, and
·        How Agile Forecasting® results from integrating predictive database decision support, automated statistical forecast modeling, forecast uncertainty measurement, and ongoing forecast performance evaluation within a firm's business planning processes.
This book, available on Amazon, advocates four key steps in an approach to solving business forecasting problems. These same steps are key to forming an effective framework for an Agile Forecasting® process.
1.      Prepare: Define the purpose and role of the job or organization, define the major areas of responsibility, set objectives, and establish indicators of performance.
2.      Execute: Define short-term goals and action plans, and carry out a plan for each area of responsibility.
3.      Evaluate: Perform forecast monitoring (define objectives for the forecaster), know what to monitor, develop a measurement plan, develop metrics of forecast accuracy, and develop scores for performance.
4.      Reconcile: Select the most credible approach, integrate demand forecasts, support database forecast decision support in the cloud, and get top management involvement.
Contributed by Dr. Hans