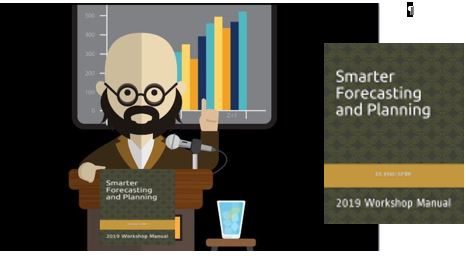 Do You Need to Get Smarter at Forecasting on Your Job?
Become current in forecasting best practices with the latest CPDF Workshop Manual for Smarter Forecasting and Planning.
The updated CPDF Smarter Forecasting and Planning Workshop Manual is available for you and your colleagues from Amazon. You will have an opportunity to get updated on the latest forecasting methods and become more proficient in best practices. Here is the link to view the manual
Here is a 5-star review on Amazon (UK):
"An attractively presented manual written by a leading practitioner that provides a clear, comprehensive and practically-orientated exposition of the key topics in a concise style. The material covered will enable readers to become well equipped for their roles as forecasters and planners in a wide range of organizations."
Complete CPDF Workshop Manual for Smarter Forecasting and Planning now available on Amazon worldwide. Start finding out what you will miss by not attending the CPDF instructor-led hands-on workshops. #demandforecasting.